Don't Miss Out on Potential Visitors
Since we've started, we've completed over 600 custom church website projects, helping each church get the most out of their site by helping them know what works and what pitfalls to avoid that are often made. Most of your new visitors will judge you on your home page and how it makes them feel, so you only have one chance to make that first important connection. We'll help guide you as we build your site, so you don't miss out on them.
Get A Beautiful, Unique Design To Draw Church Visitors
When people land on your homepage, will they be drawn into it or will they click on to another church site? And does your site best represent to your community (and the world) who you are? Study's show that a professional and easy to use website will instantly attract visitors to explore more and oftentimes lead to a visit at your physical location.
We are blessed to get emails all the time from churches who tell us they have people visit their church strictly because the church website we made for them impressed them so much. For instance, a client of ours, emmauschurchjax.com, did a survey in 2013. About 75% of the 400 people who now attend decided to visit the church because the website made them interested in visiting.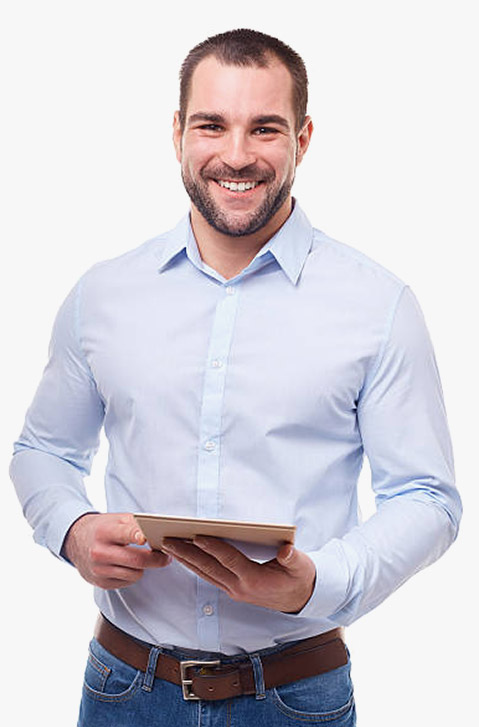 Your Own Personal Project Manager... For Life
1 on 1 personalized attention is what we specialize in. You will be assigned to our main project manager, who will get to know you & your project personally and give you customized advice every step of the way, while doing all the actual work for you! You will work with the same project manager throughout the whole process (via chat, email, or phone), who will always know your full background, and offer help even after you go live.
Because we limit the number of new churches we take throughout the year, each church gets our undivided attention and benefits from the expertise we've gained over the past 14+ years, so we can help achieve the goals you have set for your church website.
Think of us as your partner, not just your website provider.
Many providers just provide a pre-built template and send you on your way to do the rest. That's what makes us different. We develop a personal working relationship with your church to always help with whatever web needs arise, whether it's training someone new on our system, finding the best way to highlight something, customizing the system further (after you've gone live) to meet your specific need, tips on enhancing the look of a page, best places for church graphic resources, or anything else web related you'd like to throw at us!
Super Simple Website Editing
Content management systems can be overwhelming. We've gone out of our way to make ours as simple as possible for the site admins, ranging from pros to newbies. You never need to use HTML and many actions are a simple drag/drop.
All actions are done on the frontend, of your actual site, so as you can interact with all the editing commands as you browse the site. No backend access needed!
Content Management Software Included:
Announcements
Blogs
Calendar
Custom Forms
Directories
Download File Cabinet
Ecards
Event Registrations w/ Payments
FAQ's
Frontpage Slideshows
Member Registration & Login
Ministries
Photo Galleries
Pop Up Alerts
Prayer Wall & Requests
Sermons w/ Audio & Video Podcasting
Slideshows
Small Groups
Staff Directory
Surveys
Video Galleries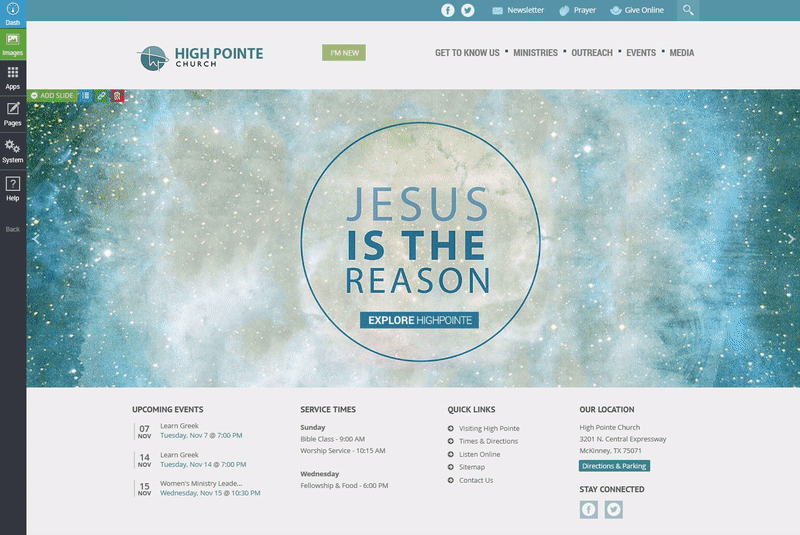 Enhanced Content Migration
Beware. Most template companies offer content migration but what they mean by that is entirely different from what we do. We try to find ways that we can make a page look more modern and work with you 1 on 1 to figure out the best way to present the content in a user friendly way. That's why we take so much pride in doing custom websites, which enables us to take the time to really help think through site presentation & implement it.

We don't stop there! When you provide us with your initial text, we frequently refine and restructure it to improve its overall readability and user-friendliness.
We don't try to cram you into a one size fits all system like template providers have to offer.  Our software is both flexible and advanced enough to be configured in many different ways to fit your needs specifically.


Examples:
– Their prayer program might have 5 configuration options.  Ours would have 20+ configuration options.
– Their staff program might only have name, email, position, & bio. Ours has unlimited fields to add, so it can be setup to have whatever data you want, such as phone number, extension, social networks, etc.

It gets better! If for some reason a piece of software (like the photo gallery) doesn't meet your needs, we oftentimes have other options that may be a better fit for your situation. We are not limited to only one piece of software like other companies may be with their template systems.
All sites are 100% responsive.
Close to half your website visitors will access your site on a mobile device such as a smart phone or tablet, so it's important to make sure the site is built with this in mind. For instance:
How does your homepage flow on a phone?
How easy or hard is it to navigate on a phone ?
How easy or hard is it to find things on a phone ?
Is your mobile website really that well thought out?
We'll help make sure your visitors have a great experience and want to keep coming back, regardless of device used.
Huge Premium Christian Image Library
Search for the perfect image from over 190,000 professional high quality photos for your church website. Use up to 65 photos a year from Christian library. A $500 value!
Plus, free membership into Christian Collages Christian Graphics.
You do not need to be a website client to use these add-ons below:

Starting at $30/month!
Broadcast to your website, Facebook & Youtube all at once! Includes live chat & archives.

Only $49/month!
Grow church engagement with 0% extra effort! Push messaging enabled.

$0/month fo website clients
Easily create your own digital fill in the blank sermon notes. Attach your live feed to them!
Why Mychurchwebsite Custom vs Template Company?
Going custom offers endless options to make your site look and function however you wish… something template providers just can't match.
Instead of trying to cram your unique vision into a template, we work with you 1 on 1 to design a completely custom looking and functioning church website built around YOUR specific needs, from creating the design to setting everything up that you need. Your only job is sending us your content. We'll help consolidate it for you, find the best place for it to be, and input it into the system to present it in the most user friendly way possible. Most importantly, we make your content look pretty too.
The more your content is shared on social media, the better the chance of new people discovering your site/church. Our websites allow you to enter your announcements, sermons, slides, and blog posts into your church website and have them automatically sent to Facebook and Twitter. These posts then redirect people back to your website to read the full item. This is a HUGE time saver!
Other Highlights:
– We'll create matching graphic designs for your social media accounts
– 'Like' & 'Share' FB buttons on pages, blog posts, sermons, and announcements.
– Optional ability to import all your social network posts into your church website instead of exporting out to FB.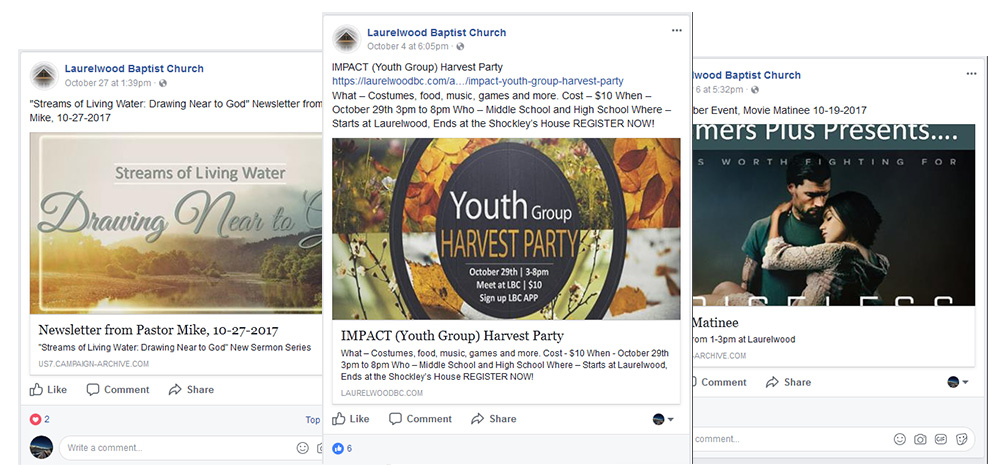 Managed Security & Hosting
Did you know that even if you have security software running on your site, just having 1 outdated plugin can open the door to hackers?
Many churches oftentimes have someone in the church throw them together a website to save some money. The downside is that if that person leaves or just doesn't have as much time anymore to devote to the site (which is often the case), the site becomes more and more insecure over time.
With us, you no longer need to worry about security/hacking or site plugins going out of date. We are constantly updating your software with the latest patches, both on the server level and the church website software level, along with multiple layers of protection on top of that on the outer level of the server.
Over 600 custom website projects since we launched!
We've recently been asking customers to share their experiences on FB.

- Facebook

Far exceeded our expectations. We weren't exactly sure what we wanted as an end result, but could give a general idea and gave a few suggestions. Mychurchwebsite took that loose concept and walked us through the entire development process step by step, communicated with us all along the way, and delivered a custom site that goes well beyond what we had imagined. Can't thank you enough.

- Facebook

My Church Website -is phenomenal!! I have never experienced such amazing customer service. They go above and beyond to make my wish list come true and to make me look good. They are not only easy to work with but they help me learn more about my system so I can do things myself. The content management system is great and easy to learn. I highly recommend them. Please feel free to comment or message me anytime to find out more.

- Facebook

We've been with mychurchwebsite since 2012!! They provide excellent, relevant designs as well as prompt, almost instant customer service! We've just gone through a renovation of our existing site, and the new updated look is amazing! Would highly recommend them to any church looking for an online presence!

- Facebook

In the past few years, since I inherited the management of our congregation's website, I can't express how pleased I have been with the service and support we've received from your company. Our pastors have said that over half of the new people that have come to our growing congregation have been through the website. Mike and his company is always responsive with any issues or problems we've had—often resolving them within minutes or hours, not days or weeks. Along the way, we've upgraded and added modules to enhance what we have so that our website can be an experience for us

Professionally, before working for the church, I've been in the graphics industry for over 40 years. I've created and designed websites for others but I can't think of another vendor I would rather work with. Thanks for all your help.

- Facebook

One of our goals was to have an affordable and cost effective design with the greatest technology features to connect visitors, members and friends to our ministry. My Church Website designed our website with a high standard of quality and knowledgeable professional staff. They really took a lot of the burden off of us and made the development of our website a simple process. Our congregation and staff are so happy with our new website and its features. I would recommend and encourage anyone looking for a new website design to connect with My Church Website. It was one of the best vendor selections we made in designing our new website.

- Facebook

Great company to work with. Customer support is excellent, and editing the site is easy, We have received many compliments over the years. we are about to embark on a updated re-design with them, looking forward to it!

- Facebook

Mike's design work (the founder of Mychurchwebsite) is outstanding. Solid functionality for churches and appealing designs. He and his team are very responsive to our questions and support needs, and always willing to work with us! I highly recommend mychurchwebsite. Great value!
Up to 40% Off Future Custom Redesigns
Once you are a Mychurchwebsite.com client, you can often get up to 40% off our normal prices for a whole professional custom redesign anytime in the future.
See some of the church designs we've done
View our portfolio page to see what we can do for you. Get full service from our awesome website team.