Are you looking to gain the attention of someone looking for a church, but don't know where to start?
Let us do all the work for you! Custom sites are great for churches who want a professional, attention getting website without having to do all the work of bringing it together themselves. We do everything for you… from a unique custom website design based on your needs to modern content migration and setting the site software around your specific needs. You just provide us the text / photos you want to use and we'll make it look organized and modern! Once you go live, you'll simply keep the site updated through our own easy-to-use church website content management system (CMS).
Nothing beats having your own personal designer & project manager by your side every step of the way, giving you advice, and available 7 days a week through live chat, email, & phone.

Sermon Management & Itunes Podcasting
Unlimited MP3 & MP4 audio file uploads/storage
Embed Video from Any Video Hosting Sites such as Vimeo/Youtube
Ability to upload PDF documents for notes
Allow visitors the option to either stream or download media
Ability to customize look of sermon page however you want
Attach any graphic to represent your sermon
Sermons autoposted to Facebook/Twitter
View stats of your most popular sermons
Show sermons by message or by series

Calendar & Event Registration with Payments
Advanced repeating event options
Exclude dates from repeating events  (ie. every Wed, except for June 21st)
Create Multiple Calendars
Multiple categories per calendar
Sync w/ Google Calendar, Outlook
Sync w/ 3rd party Church Calendars that have ical file (ie. ACS)
Allow staff to edit ONLY calendar
Import/export of ical and csv data
Sell tickets & take payment online
Add other items for users to purchase
Export registration lists to CSV file
Upload your own images for an event
Add own custom fields for an event
Send email to all signups of an event
Insert form into ANY page with click of a button
Drag & Drop functionality for quick form creation
Design multi-column, responsive forms
Export Results to CSV & Excel
Receive results via email or on website
Add Conditional Fields
Pre-made forms already available to use
(guest survey, baptism signup, contact form)

Each website is coded to be fully responsive so that it looks great no matter which device it is seen on, from desktops and laptops, to tablets and phones. 
Our websites allow you to enter your announcements, sermons, and blog posts into your church website and have them automatically sent to Facebook and Twitter. These posts then redirect people back to your website to read the full item. This is a HUGE time saver!

The best part is, not only we can you send to social networks, but you can import all your social network posts, photos, or videos into your church website too.

Huge Christian Image Library
Search for the perfect image from over 190,000 professional high quality photos for your church website. Use up to 60 photos a year from Christian library. A $400 value!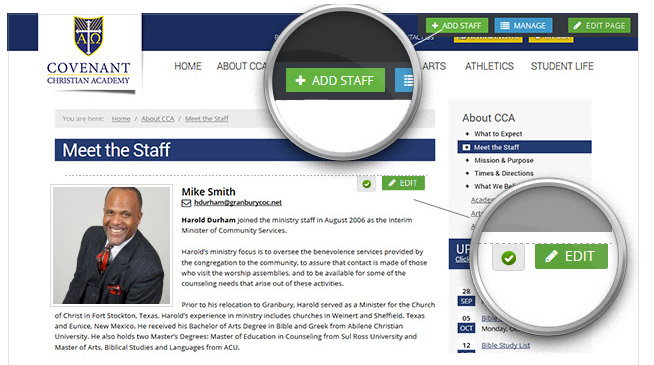 Live On-Page Website Page Editing
When browsing, for example, the staff page on your website, wouldn't it be great to be able to edit or add staff, right there, without having to go to a whole new area of the system? Now you can!
Edit your pages, sermons, staff, announcements, etc. on the frontend as you browse the actual website. No backend to fumble through. Everything can be done right on the website itself. 
Easily add images, tabs, galleries, edit text, embed media, create links, and much more — all through simple-to-use page builder tools.
In addition to the highlighted Apps above, we also feature the following Apps: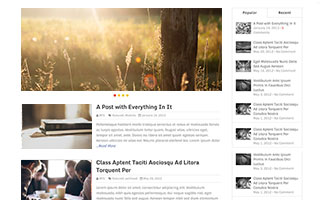 Church Blog
Allow any staff member to post
Auto Post to Facebook / Twitter Accounts
Social Media Integration
Approve or delete comments before they may be posted to blog
Member Alerts
Popup alerts on any page
Show only to certain user groups
Allow user to close alert permanently
Choose day and time to start/stop alert
Staff Manager
Give each staff member own profile
Single Row Layout or Multi Column Layout
Categorized staff departments
Automatic photo resizing
Email addresses automatically encrypted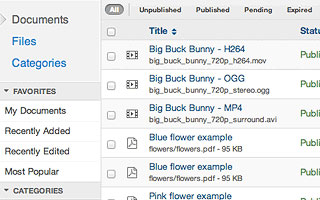 File Cabinet
Upload any type of file for users to download 
Allow public to download or view online
Allow only certain staff members to access them or everyone who visits the website.
Create private file categories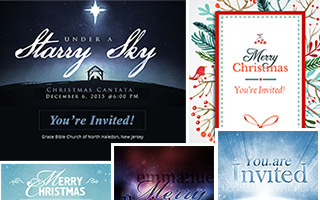 Ecards/Evites
Premade library of cards of Christmas, Easter & Misc
Upload your own ecard images
Let users write their own message
Auto resizing of uploaded graphics
Send out to multiple recipients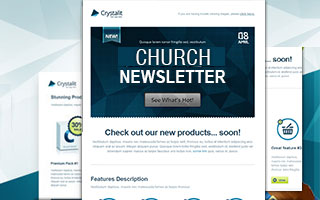 HTML Newsletter
Easy to use drag/drop editor to create newsletter

Setup announcements to go out as newsletter automatically

Preview newsletter at your own email first

Create different mailing lists (ie., ladies, youth, staff)
We also include the following features into every website:

Prayer Wall & Requests
Allow the submission of prayer requests or praises
Allow people to send encouragements to prayer requests
Allow prayer request to be shown publicly or privately
Admin can approve/moderate requests
User Permissions & Roles
Add multiple staff members to your site and assign them to only the pages you want them to edit.
Different user group permissions allow different levels of access and priviledge for each staff member
News/Page Scheduling
You can schedule any page, announcement, or frontpage slide to publish itself on a certain date and then unpublish itself automatically on a certain date.

Video
A professional video on your website, if used properly, can help you capture your website visitors' attention more than any image can. Easily add one to your page content or header.

Custom Sections
Need a way to post your small groups, have them show up in a grid or list, and have people signup? We can build that for you using our custom sections framework. So if you don't see a feature set on this features page for what you'd like, a lot of times we can still build it for you using our custom sections framework.
Custom Fields
Want to add a field for your staff to enter in their social network links or their phone numbers? Or add a field to allow the entering of scriptures for your sermons? We can do all this with custom fields availability. Just tell us the fields you'd like to add and we'll set it up for you.
Blazing Fast Cloud Hosting
Seconds count when someone visits your site. You don't want to lose them! That's why every package comes with free web-hosting on our blazing fast dedicated cloud servers. No hosting on shared servers!

Secure Private Content
Create member only content by password protecting any page on the website rather than using the normal member login function of the website.

Security Patched Software
Don't worry about out of date software opening up holes in your site. All of our web software is constantly patched for the latest security flaws, keeping your website safe from hackers.

HTML Code Access
Code view gives advanced editors direct access to the HTML of a content page. Just click an icon to switch between visual editing and code view. This enables you to use embed code you can easily copy from another site and paste into your website.

Realtime Website Stats
View important info like: monthly page views, where traffic is coming from, what pages are most popular, what social networks are sending you traffic, what people are searching for, what your most popular sermons are, etc.

Advanced Website Search
Our advanced website search allows your visitors to quickly find the things they're searching for and have those words highlighted on the page results for easy find. And because it's built-in you'll keep those visitors on your website.
These products are offered to all churches, even those who have websites with another provider.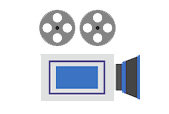 Broadcast wherever you want, whenever you want.
No viewer limits. Easily broadcast anywhere you have your camera/internet!
Accept & Track Donations. Create event registrations with payments. No Setup Fees. Advanced reporting & exporting. Low 2.2% transaction costs.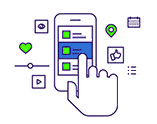 Increase church engagement with 0% extra effort! Mobile App automatically syncs with all your church website content
So many benefits of being a client!
Still not sure if we are right for you? View our 'WHY US' page to see an exciting overview of what you get.