**NEW SERVICE

– Only 7.00/month!
Broadcast live from
Facebook
or
Youtub
e directly into your website…
more details
$
30
/Month (if paid annually)
$36/month if monthly
100 GB
(audio & video storage + archive bandwidth)
$
60
/Month (if paid annually)
$75/month if monthly
300 GB
(audio & video storage + archive bandwidth)
$
100
/Month (if paid annually)
$140/month if monthly
700 GB
(audio & video storage + archive bandwidth)
How is usage calculated?
Sample Plan: $20 for 100GB  (plus $0.30 / GB for overages).
Sample scenario: Let's say at the end of the 1st month you have the following usage:
- 2 GB of accumulated video storage
- 20 GB of archived media bandwidth
- 10 GB of live streaming bandwidth
Your total usage for that 1st month would be 32 GB (no overage, your $20 license covers it)
At the beginning of the 2nd month your bandwidth resets back to 0 and your storage remains at 2 GB, therefore you now have 98 GB remaining to work with during your 2nd month.
If in the 2nd month you add an additional 2 GB of media to your archive, bringing your total to 4 GB of accumulated storage, you now have 96 GB of usage remaining to work with in your 3rd month.
If in a particular month you go over your 100 GB  storage + bandwidth allotment by one GB, on the next invoice you would pay your $20 license fee plus an additional $0.30 to cover the 1 GB overage from the previous month.
Broadcast wherever you want,
whenever you want.
No limits to the number of viewers at a time. Easily broadcast anywhere you have your camera/internet!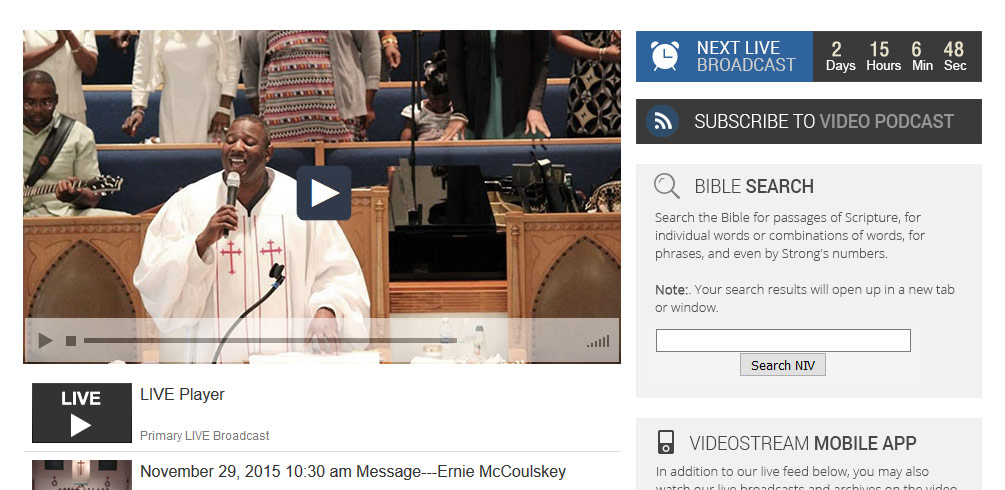 Each video streaming package comes with the following highlighted features:
We are an extension of Your Media Team!


| | |
| --- | --- |
| Free Consultation | Are you not sure where to begin (equipment, process, etc…)? We can start by discussing your needs and goals, then help you outline some simple steps to get things rolling! Fill out the form below to get started. |
| Free Support | Are you completely new to online media, or just need a helping hand? We are here and always happy to help our customers via phone or email! |
| Use only the Features you need! | So many tools in the tool box! Whether you are looking for just live video streaming, a backup of your online media, syndication of an audio podcast, or live streaming of JUST an audio podcast, our service has you covered. |
| Take Control of your Content! | Keep your online media archive safe and separate from the secular platforms alone. Then, share your media with them (Facebook, YouTube, etc.) to expand your outreach. You never know what may happen to your content should they decide to change things. |
Upload or Live Stream Your Media Content


All-in-One
Control all aspects of your online media through one browser-based interface!
Server-Side Conversion
We handle all the tricky stuff once you have uploaded your source file to us. We will convert it into a web-friendly format to make sure all your visitors can access your content, across all their devices.
Media Storage & Delivery
We will store your on-demand content at our data centers to make sure it is safe and accessible from anywhere on the planet that has access to the Internet.
Live Streaming
Perform live (real-time) broadcasts from your sanctuary or anywhere you have an internet connection. People can watch the event as it happens, even if they are not able to attend in person (great for shut-ins, those that travel, or as our outreach tool). Archive a recording of your live stream for future on-demand access.
Live Simulcasting
You can simulcast your Live Stream directly to your

Facebook Live, YouTube Live, and/or Periscope

accounts. This makes it easy on you and your equipment as one Stream will hit all destinations simultaneously.
Simulated Live Streaming
Create a virtual live experience using pre-programmed content that you broadcast as a scheduled event. Like a TV broadcast, everyone who joins is watching at the same point within the stream's playback.
Accessing & Delivering Your Media


| | |
| --- | --- |
| Unlimited Episodes and Playlists | Create an Episode for each of your messages / sermons. A Playlist is a way to group your Episodes. For example, you may have a Playlist for your Youth Ministry's episodes, and another Playlist for your Sunday Morning Worship episodes. |
| Trim Videos  | Following a live stream you can have the entire broadcast automatically added to your archive, or you can make it a manual process whereby you can trim heads & tails off of the recording prior to adding it to your archive. For example, some broadcast the full service but only archive the message portion. |
| Quick Archive Encoding | As soon as the broadcast ends it goes through a publishing/transcoding process (if you have it set to auto-publish the full broadcast).  The time it takes to process the file will depend upon the file's duration, and how busy things are server side. We scale up with many transcoding servers during our peak times so it typically takes an hour or so to complete. |
| Unlimited Players and Media Centers | Copy & paste your fully mobile responsive Media Center(s) or Player(s) directly into your web sites, blogs, or social network sites. They can be for a single episode, or for a Playlist containing multiple Episodes. Media Centers are packed full of additional features, including; Live interactive chat, integrated Bible, private Notes, real-time Call to Action, and more. |
| Unlimited RSS/Podcast Feeds | Create as many unique RSS/Podcast feeds for your content as needed (each Playlist is its own RSS feed). Submit your feed(s) to iTunes or similar services. |
| Direct Media Links | Direct access URLs for each of your audio (.mp3), video (.mp4), document (.pdf) files, or live streams (.m3u8). |
| Apps | All of your content, Live & On-demand, is available within the Apps we offer you for iOS, Android, and Roku devices. You can even create your own custom Apps just for your content, and submit the Apps to your own developer account with Apple and/or Android. |
Offer your conregration multiple ways to access your  live streaming. Easy step by step instructions are included.
Frequently Asked Questions